Taking on a Challenge: Vegetarian Week
This past week, I took a challenge from a friend to be vegetarian for the week. There isn't a specific reason why I chose to become vegetarian for the week… I really don't have anything to prove. However, I decided to try something new.
Being a temporary vegetarian has opened my eyes to the great dining options offered on campus. First and foremost is Grins, an on campus vegetarian café located in the Ben Schulman Center. In addition, Grins is Kosher-certified. Everything is made fresh, and the menu is constantly changing, providing a lot of variety. I started my vegetarian week this Monday with lunch at Grins. I had a yummy salad and a vegan chocolate chip cookie!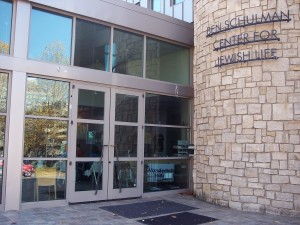 While Vanderbilt's campus is already setting the bar high with Grins, the on campus dining halls are surely not slacking in vegetarian options. I usually eat in the Rand Dining Hall for lunch on Tuesdays and Thursdays. Options like the salad bar make it easy to find a vegetarian meal. Concerned about not getting enough protein? The tofu and kidney beans in the salad bar are easy ways to satisfy this problem. While I'm not the greatest fan of tofu (it's the texture) I was able to create a balanced meal that satisfied vegetarian requirements and my hungry tummy. And if you're not a salad fan? There are plenty of vegetarian options in the various stations of Rand and Chef James, ranging from comfort food to ethnic food. The vegetarian paella I ate on Tuesday really hit the spot when I was getting tired of eating those leaves.
What's the hardest part about being vegetarian? Probably the fact that I can't go to Moe's, because I know I will be tempted to order my usual meal. This Taste of Nashville location has been one of my favorite restaurants for years, and now I can buy meals from here with my Commodore Card! While Moe's offers awesome vegetarian options, there is nothing that beats a Joey Junior burrito with chicken.
Despite my absurd Moe's craving, the transition from carnivore to vegetarian has been quite easy. While I will probably eat meat again in the near future, I know that vegetarians at Vandy are in good hands when it comes to campus dining. Vanderbilt's awareness of their students' eating patterns has thoroughly impressed me. And on that note, it's time to find my next vegetarian meal!