Music City you have REALLY outdone yourself
This year the Grammy nominations Concert switched from being held in California to Nashville.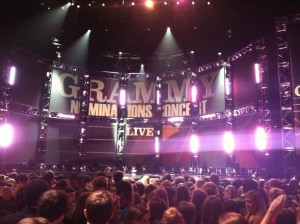 Yeah, a little country twang added to the count down to Music's Biggest night! And I got to go! I responded to one of the mass emails sent out on a listserv by Vanderbilt and quickly put it at the back of my mind. On Monday, I got a confirmation email out of nowhere telling me I had gotten the tickets for me and my two roommates. I didn't believe it until I was standing on the floor, ridiculously close to the stage. Yes, this is happening.
LL Cool J, I just found out who he was yesterday, opened the night with one of his songs; all I remember is that every few seconds I was screaming "What-up!". Then he ripped his shirt in half and threw his crystal necklace to the crowd. That's when I knew: this is going to be an awesome night. The cohost of the night, Taylor Swift, appeared, and it got a little out of control. On a side note, I deeply apologize to the poor man who was standing next to me; I just may have hurt his eardrums…just a little bit.
The list could go on about how fun the night was…speaking of which….the band fun. performed. They were every bit as wonderful live as they were to me sitting in the car listening to them on the radio. What was so fascinating was getting to see the stars pass by the floor we were on and getting to greet them on their way to their seats next to the floor area where we were. Between every performance there was an announcement of the nominations for each category and seeing the looks on the fun.' band members' faces and Hunter Hayes' face as they found out their nominations was priceless.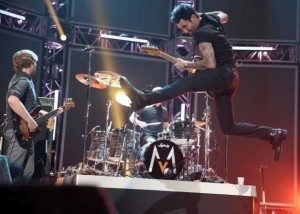 The night started off with a spirited rendition of Johnny Cash's "Jackson" by The Band Perry and Dierks Bentley, a tribute to the legend of Johnny Cash, Nashville's very own. Then, Hunter Hays sang, more like serenaded us, the nominations for Best Pop Vocal album. Between commercial breaks the bands would set up, the hosts would move from one spot to another, and the backstage crew would move all the props. It was all very crazy and confusing. One moment, Cassie was yelling "There is Taylor Swift!" and shoving me towards the walkway to touch her hand. Then next moment, Luke Bryan's emerging from below the stage, singing as silver confetti exploded everywhere. Live shows are so chaotic. Some of the highlights of the night included: fun. singing "We are Young" with the gorgeous Janelle Monae, NeYo's "Let me love you", and Luke Bryan's "I don't want this night to end", the rendition that will forever be remembered as "the one with all the sparkly confetti".
By far, my favorite part of the night was the performance by Maroon Five. Put simply: they owned the night. They performed all of their hit songs from their latest album, Overexposed: "Payphone", "One more night", and "Moves like Jagger". The camera stopped rolling at 10, but the fun didn't end. Since we were there live, Maroon Five gave us an extra half hour concert flashing back to all of their classics: "This Love", "Sunday Morning", "Makes me wonder", and "She will be Loved", pretty much summing up my middle-school musical experience in a few minutes.
We got back from the concert. Did all that really happen? I slipped off my shoes and little pieces silver confetti fell out. Nope, this night didn't end. Thanks Luke Bryan.