The Last Vanderbilt Home Game!
This past Saturday I went to the last home game of the year, where we played our rival Tennessee. Not only did we win, but I got to celebrate with the seniors as they performed in their last home football game.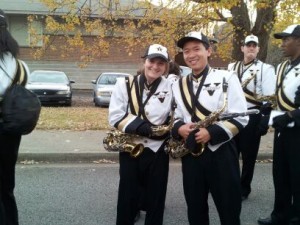 I am a sophomore in marching band, and at the last home game we have two traditions: a student show and senior farewell. The student show is when members in the band create everything for the halftime show; music and marching drill are the student's responsibility. The theme for our show this year was Disney. Senior farewell is when the seniors make a toast to the rest of the band and are recognized on the football field after the halftime performance. This year, these traditions fell on the same day that we played one of Vandy's biggest rivals. Having these traditions during this game, and of course WINNING the game, made this an amazing experience for our graduating seniors.
I think the best part about this game was the overall atmosphere. Everything was packed! Star Walk, the pep rally that takes place between the McGugin Athletic Center and the football stadium, brought in a record number of fans. Vanderbilt has had a bad reputation for not having a good football team, but times are changing. In fact, for the first time in Vanderbilt history the football team is bowl eligible in two consecutive years. Did I mention Tennessee's head coach got fired the morning after the game? Vanderbilt's football team is going great places, and its fans are becoming true believers. While our band seniors were sad, they realized it's not the end yet… we still have a bowl game to go to! I can't wait to perform one last time this year!