Missouri Loves Company
The weekend before break I made the 7.5 hour drive to Columbia, Missouri for an ultimate frisbee tournament. The tournament was even more fun because both the men's and the women's teams went to compete.
The tournament name was Missouri Loves Company, and that name couldn't have been more true. There were over 40 teams there-which is unheard of for frisbee. I don't really know much about ultimate teams around the country, considering that I joined this year. Apparently, all of the best teams in the country were there to compete though (there was even a team from Arizona!). Since we were back in the Midwest, I recognized most of the schools and it was like a little piece of home with all the familiar names.
Thankfully on Saturday the weather was good, but unfortunately it was windy all weekend, which is not good for frisbee. We played four games throughout the day, and by the end I was exhausted and pumped for our post-tournament Chinese dinner. There were more girls at this tournament and the boys team played too. One of the things I've loved about the frisbee team is getting to meet people, especially since everyone on the girls team is so nice and welcoming!
While the weather was pleasant on Saturday, it was a different story on Sunday. Luckily we only played two games. The first one was a little windy, but fine. The second game was absolutely miserable. It was pouring rain, windy, and cold, so I spent most of the game huddled under an umbrella with other girls. Playing in the rain was fun though, except for the wet disc. Changing into warm, dry clothes afterwards was wonderful.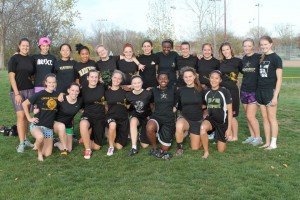 This was our last fall semester tournament, but in the spring there will be more. I'm so glad that I joined something new this semester- it has been so much fun! I even found a passion for frisbee that I never knew I had.