I'm Wide Awake
This past weekend, I took a vacation. After a hectic week in which I had three midterms and a nine minute speech all within the span of five days, I needed some time off to regain my sanity. Sure, I could have waited a week and relaxed over Thanksgiving Break. But, a better opportunity presented itself.
Being a Catholic, I have been involved with University Catholic (formerly known as Vanderbilt Catholic), a Catholic student organization, since Freshman year and a retreat came up over this past weekend. The retreat is called, Awakening, and it takes place once a semester at a retreat center called Camp Marymount. It is a weekend long retreat that gives the chance for students from Vanderbilt or from any other school to take the weekend to relax, meet new people and have time to think and grow in one's faith.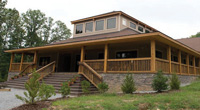 As I had gone on this same retreat the year before, I was given the opportunity to be the leader of a group this weekend and I had a great time over the course of the week. It was very refreshing to have the weekend and not have to worry about classes or homework and just be able to think about life.
I met some great people over the weekend and definitely made some new friends who I would otherwise not have met while just being on Vanderbilt's campus. I am now feeling quite fresh and prepared to take on the upcoming finals and close up my first semester of Sophomore year. I highly recommend others to go on a retreat or to find some kind of way to take a weekend or a couple days off every now and then. Since Vanderbilt is a top 20 academically ranked school, classes are demanding and more difficult than the normal school. But, it will all be worth it in the end and taking some time off the busy schedule every now and then will ensure that you don't crash and burn studying for those midterms and finals.
P.S.  We beat Ole Miss and we're going to a bowl game. How crazy does my 9 game prediction sound now? Anchor Down.