Flag Football Championships
My roommate, Sophie, played flag football in high school and this year decided to make an intramural flag football team. She needed extra girls, so I volunteered to join. I haven't played flag football since elementary school, but I was up for learning the game.
I've watched a decent amount of the NFL on TV, so I knew the basic rules of football. However, there was an official rulebook online that I briefly read through. Actually playing is much different than watching on a TV screen though. I now understand how important ref calls can be during a game. It was also weird getting used to the stop and go of football.
The team is co-ed, so there are 4 girls and 4 boys on the field at a time. The Vanderbilt Student Rec Center organized an entire schedule, along with refs. I was an "offensive lineman" for most of the games, although I did play center a little bit in the last game. Mostly I either kept people from sacking the quarterback or tried to sack him myself on defense. I wasn't particularly good at either, but it was still a good time.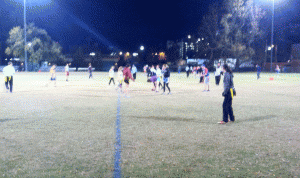 Our team lost the first game, but quickly got it together and won every game since then. We then made it to the playoffs and won two games. So, we are now headed to the intramural co-ed flag football championships! It's kind of ironic considering my experience (or lack thereof) with flag football, but it has been so much fun playing. At this point, I really just want to win for the free t-shirt, since I love free stuff. After this awesome experience, I definitely want to do more intramurals. Luckily, there is an ultimate frisbee intramurals league in the spring that we are already planning for!