Disney disney!
I have been on a very looooong blog hiatus, but no worries, I did not forget about you guys! It is just that October and the beginning of November have been two crazy months for me. But hey, I do have one big update about my 3rd semester at Vanderbilt..
Last Thursday was an exciting day for me, because I was selected and cordially invited to attend the Disney in Concert at Schermerhorn Symphony Center. Every month or so, the Dean of Students, the Office of Housing and Residential Education and the Commodore Cruise invites the undergraduate students of Vanderbilt to enter a draw for various events, such as watching a game at the Bridgestone Arena, fancy dinners, concerts and so on. The purpose of each Commodore Cruise event is to give students "an opportunity to engage in an alcohol free social/educational activity and experience Nashville with Vanderbilt faculty and staff at no cost to you or your guest" (direct quote from the Commodore Cruise email).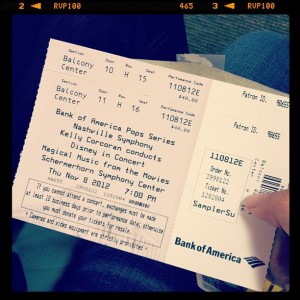 Only the 15-20 lucky students are emailed back as winners of the random selection, and the good news? You get to attend the event at no personal cost, you get to bring a guest, AND these events are almost always outside of campus, the Vandy-bubble! So a few weeks back, I got an email from Commodore Cruise advertising the Nashville Symphony's Disney Concert. If you haven't noticed yet, I'm a big fan of everything Disney — I'm sure some of us are still young children at heart whenever we happen to hear Disney soundtrack playing somewhere. The Disney Concert was a special performance that only lasted from November 8th to the 10th, which gave me more reason to enter the Commodore Cruise drawing. So how do you participate? You should be getting emails on your Vanderbilt account about these events. All you have to do is go on anchorlink with your vunetid and register by filling out a short online form. After that, you keep your fingers crossed and wait for a follow-up email with a subject along the lines of "CONGRATULATIONS!" Luckily, I was one of the very few students who were picked for the Disney Concert. A lot of my friends also applied but didn't get selected, so they were pretty jealous! :)
After checking in at the Branscomb Front Desk by swiping my commodore card, all of us Commodore Cruise winners and our guests got onto the shuttle that headed to our restaurant. The Commodore Cruise treated us to Sambuca, which was a restaurant located downtown near the Gulch warehouse district. We ate a few appetizers, salad, a main course (I chose a pasta with chicken – it was so good), and a few dessert samplers. One faculty member, a professor from the Psychology and Human Development, and her daughter joined us as well, which I thought was a very nice touch by the Commodore Cruise, because students outside of class don't really have the opportunity to eat and chat with professors. Eating at Sambuca was really nice — it had a really classy atmosphere, and the food was delicious.. and it was all for free! This wasn't your everyday ordinary rand dinner, so I was genuinely surprised by how our school was practically paying for this whole event.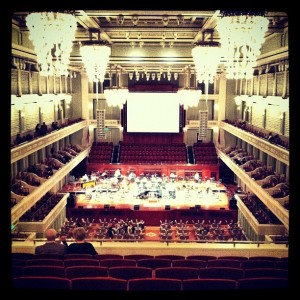 Dinner was fabulous, but the concert was simply the most amazing part of the whole event. The Schermerhorn Symphony Center was absolutely beautiful with its interior design — we were seated at the balcony, which was several floors above the actual stage, which was better for me because I wanted to see the whole orchestra. And needless to say, listening to Disney soundtrack of multiple Disney movies (Pocahontas, Beauty and the Beast, The Little Mermaid, Aladdin, etc) performed by the Nashville Symphony was magical to say the least. I am proud to say that I recognized all the songs! Though I was a little bummed that they didn't have any Mulan soundtrack in their repertoire, being an audience for this concert made me feel like a kid again. After all, Disney movies were a big part of my life back then.. It also made me really miss being part of an orchestra — I used to be in a orchestra as a violin and viola player since I was in fifth grade until senior year high school. As I watched the first violins, the trumpets, the percussion and all the other instruments work together to create beautiful music, nostalgia really hit me.. Music has been such a big part of my everyday, and it will probably stay like that for a while.. All in all, it was a marvelous night, and I'm glad I could share the magic with at least one of my good friends.
In conclusion, a big shout-out to Commodore Cruise for providing Vanderbilt students with such great off-campus events! Can't wait to see what more they have to offer!