Sudden Sisterhood
*Guest blog by precious friend/hall mate/Greek yogurt-lover Lauren Culbertson
Dear Vanderbilt underclassmen women/cute prospective freshman ladies,
A year ago, I claimed that I was not the "sorority-girl" type, but now I am a proud sister of the Zeta Omicron chapter of Alpha Chi Omega.  Who woulda thought, right?  Initially, I refused to participate in sorority rush. Rush is a four-day process involving 600 Vanderbilt women (usually first-years and sophomores) that occurs over two weekends in January, right at the beginning of the spring semester.  This is awesome because you don't have to worry about Greek life at all your first semester at Vanderbilt, and you can focus on bonding with girls on your hall and forming deep friendships while you get settled.  Rush ends with a bid day celebration, during which girls are placed in the sorority that fits them best, right where they belong.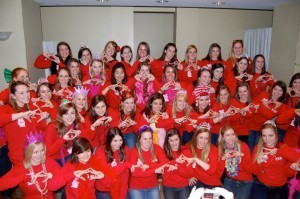 Around Thanksgiving break last year, I was completely content with the friend group that I had formed over the fall semester.  My perceptions of sororities and Greek life as a whole were completely off. I sort of understood the other girls' excitement about the process, but I had never even approached Greek Row. That is, until the lovely Samantha Orland, the hilarious girl for whom I am guest blogging, convinced me to rush with her. Sam is quite stubborn, so it didn't take much nagging before I gave in. Plus, I'd get to spend 2 whole weekends hanging out and bonding with other underclassmen girls and I would receive a new t-shirt for Fall Preview Day for being a potential new member.  I am ALL about the free stuff.
After Winter Break, returning to Vandy a few days before the rest of the student body was rather enjoyable, because we, the Vanderbilt ladies, had the campus to ourselves. The intense rush process began immediately. On the first day, my negative views of sorority girls were quickly blown away. Every girl I met that day at each of the houses was incredibly sweet, and suddenly I wanted to join EVERY sorority. The opportunities were endless within each house of girls. All of the physical houses were gorgeous inside and out. On the following three days of rush, each potential new member would receive a new schedule with fewer houses to attend the following day, determined via mutual selection process involving the preferences of the potential new members as well as each sorority's preferences. When bid day approached, I was ecstatic to read Alpha Chi Omega on my bid invitation.
My first day as an Alpha Chi (abbreviation for AXO) consisted of an afternoon spent at Dave & Busters, and my experience as a sister has only gotten better from there. The members of AXO are a fantastic group of diverse girls that are motivated academically, but also have a bit of sass.  The girls in my pledge class have become very close friends, but I also have a strong core group of friends outside of Greek life. Who doesn't want more friends? One semester as part of the house was filled with laughter and love at many fun, unforgettable events: Big/Little Reveal, Formal, Mom's Weekend, family pictures, and countless others! This year we have already gone rafting and had an incredible Sisterhood Retreat.  Alpha Chi Omega has been such wonderful experience, and I'm sure that the girls in all of the other sororities at Vandy would say the same.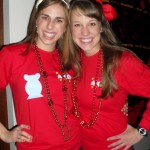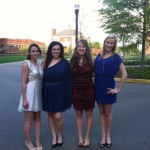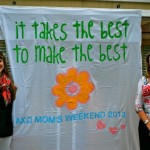 I cannot tell you anything about rushing fraternities, but I think each and every girl should consider taking part in spring rush. If nothing else, you will perfect your small talk. Bonus!  Take it from me, an anti-Greek freshman turned Greek sister, opening that card on bid day has changed my life for the better.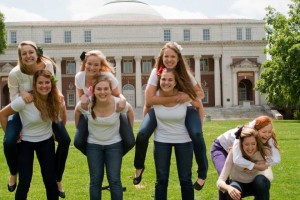 Curious how much swagger AXOs have? Watch this video and ponder no longer.
AXOXO, Lauren