Halloween in College
Halloween has been one of my favorite holidays for as long as I can remember. This is mostly because I've made my own costume almost every single year. I've done everything, mostly inanimate objects, from a firework to an oven to an IPhone to Taylor Swift. I was even that kid, the one who convinced all my friends to go trick-or-treating my senior year of high school. We got some interesting looks. Unfortunately in college, I've officially outgrown trick-or-treating. There also aren't a ton of neighborhoods within walking distance of campus. Last year Halloween kind of crept up on me, but this year I was ready to celebrate!
As I already blogged, I painted a pumpkin last week, which is currently sitting in my room as a nice decoration. Also for the past two years, a bunch of my friends' moms from back home have gotten together to send us Halloween-themed care packages. So I had a nice pile of candy even before the actual day of Halloween! I also brainstormed a lot about easy costumes and found an awesome bright 90's track suit from Goodwill. It was even perfect for the chilly weather!
This Halloween I heard that Chipotle was having $2 burritos if you showed up in a costume. It couldn't have been a better idea. I am obsessed with Chipotle, literally. Plus, there aren't a ton of events on Halloween, so it was a great reason to dress up with my friends. And $2 for a delicious burrito, what a bargain! The line was definitely longer than usual, and Chipotle was filled with people in costumes. It was awesome seeing all the creativity in the costumes. My favorites were probably Selena Gomez (partially because I'm a fan, and also because she had a huge Justin Bieber poster), a very good Captain Jack Sparrow, and a Dalmatian.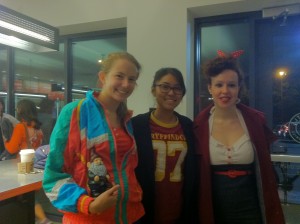 It definitely takes a little bit more planning in college, but celebrating Halloween in college is totally possible. I had a great time this Halloween, celebrating with Chipotle burritos and my friends.