Fun Times in Nashville!
The past few days I've been able to journey off into Nashville for some city-specific events, which has been so exciting!
This year my roommates and I splurged and bought season passes to TPAC's Broadway performances.  We literally sit in the last row but it ended up being under $20 a performance, which is totally worth it!  This past Tuesday we went to the first show of the season–Anything Goes.  It was a phenomenal production with fun music, fabulous musical numbers, beautiful costumes, and great acting.  The play was ridiculous–my favorite part was when one of the most "average" characters burst out in a song about how he was descended from a gypsy and therefore should be impulsive, passionate, and wild.  It was totally unexpected and goofy, encapsulating the atmosphere of the entire play.  The production was hilariously funny and continuously surprising.  I'm so excited to keep going to these performances with my roommates (speaking of roommates: check out Dexy's blog!)!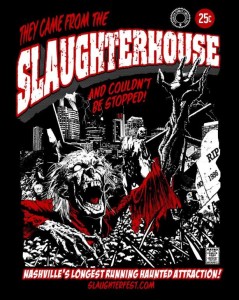 The other activity I participated in was the Slaughterhouse Haunted House.  It is one of Nashville's longest-running haunted houses and was a lot of fun.  My boyfriend got free VIP passes at a conference he went to this weekend, so we went with a bunch of friends from Lipscomb last night to get in the Halloween spirit.  I am not one to love terrifying myself, so haunted houses are usually not my cup of tea.  My boyfriend LOVES them, though, so I decided to bite the bullet.  It ended up being really fun from a theatre major perspective: the fake blood and costumes were impeccable and the use of light, fog, and sound helped build up a creepy disorientating atmosphere.  It was so easy to get lost, and yet your entire progress was punctuated by random actor appearances.  They would try to isolate some of our party members to freak them out even further, but their actions just spawned good-natured jokes and nervous laughter.  Don't get me wrong, the experience was scary–we were chased out of the building by a man with a chainsaw!  But it was also super-fun, which basically sums up my view of Halloween!
Nashville has a plethora of fun activities to get involved in if you feel inclined to leave campus.  It's great to be at a school located in such a fun city.
…Until next time!