Family Weekend
After seeing my dad over fall break, I got to see my entire family this past weekend at family weekend! It was so nice to see my mom and sister after almost two months apart, and of course to see my dad again.
While I love just spending time with my family, when they come to town that also means I have a car so that I can take care of errands. First on the list on Friday was a run to Target and Costco to stock up on my favorite granola bars and other random items. On Saturday I was so excited to get a hair cut because it had been a while. Sometimes in college, it's the little things that make your day. We also went shopping at the Opry Mills mall which opened last spring after closing because of the floods. Almost every time my parents come to town we go shopping for random clothing items, and this trip I was on the hunt for a new suit for career fairs and such.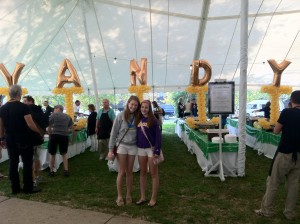 I also had a ton of fun on Saturday at the Parents Weekend tailgate before the game against Florida. We then went to the game, which I thought was quite a good game considering we were playing the fourth ranked team in the country. The stadium was completely full, which made the game even more fun and exciting. While Vandy did end up losing 17 to 31, it was still a great night. After the game, I took my family to Taco Mamacita, another one of my favorites, which takes an interesting twist on Mexican food. I remember loving this restaurant last year when I first found it-plus it's within walking distance of Commons! Next door there was a new dessert store called Legato Gelato, and we decided to try it out. My sister and I split a cup of sweet milk gelato that was delicious!
Sunday morning I took my family to the church that I go to here in Nashville called Ethos church. I then took them to Burger Up, where we all enjoyed tasty burgers. Unfortunately, then they had to drop me off back at Barnard so they could catch their flight. I loved getting to see my family this weekend though and I can't wait to go home for Thanksgiving Break!