A Taste of Home
This weekend, my best friend from home visited me at school! She goes to Tulane University, so the trip was a 90-minute direct flight. It's only taken her two years to come visit, but I can't hold it against her too much, since I haven't quite been to New Orleans yet (but I already have a flight booked for the spring semester).
My friend, Erin, arrived on Friday evening. I picked her up at the airport and we went straight to Loveless Cafe. I was famished after a long day of classes and I knew that Loveless would be the perfect way to introduce Erin to Nashville. After dinner, we came back to school and Erin met all of my friends. We ended the night by going to the Lights on the Lawn concert, which was a benefit concert on Alumni Lawn that supported the Christopher Reeve foundation, in hopes of bringing a Vanderbilt student who was paralyzed last spring back to campus.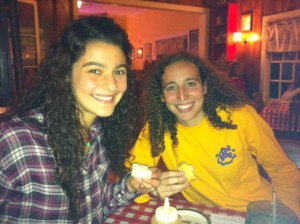 Saturday was GAME DAY! Erin and I went to Star Walk and then straight into the stadium. We watched the Commodores beat the Auburn Tigers by a score of 17-13 and we watched Zac Stacy emerge as Vanderbilt's all-time leading rusher. The best part of my day was at the end of the game. The student section was packed and we all came together to sing the alma mater with our team. I was so content.
Today, the weather was absolutely beautiful. Erin and I walked around campus enjoying the beautiful fall day. At Tulane, the leaves don't change so Erin was completely taken aback by autumn, which happens to be my favorite season in Nashville. We walked to Hillsboro Village and shopped in a few of the boutiques. In the late afternoon, I took Erin to the airport. Unfortunately, our weekend was over and it was time to get back to reality.
I had a great weekend and I cannot wait for Erin to come back!