London Calling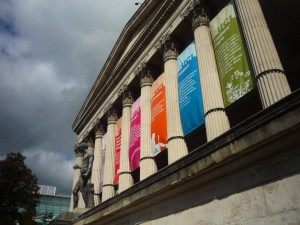 In case you can't tell, I'm a teeeeny bit excited about studying abroad in London next fall. Two of my friends are studying abroad in Edinburgh, one in St. Andrews, and another in Buenos Aires…so how did we decide where to study?
Firstly, I knew I wanted to go somewhere where English is the predominant language. I've studied Spanish since the second grade but last year I felt a little burnt out, so I was happy to hear that there are over 35 study abroad programs based in English-speaking countries. That's not to say I don't plan on travelling to other countries and trying my hand at conversational Spanish (and the five or so words I know in French…), but I wanted my classes to be taught in English.
Then, I narrowed Australia out of the picture because I've never been to Europe before and I can visit tons of countries by choosing a program in Europe. I already plan on visiting my friends in Scotland and we're all going to travel to Oktoberfest too!
The deciding factor ended up being based mainly on academics. Vanderbilt students studying abroad get credit for courses fulfilling a major or minor, but not for AXLE. Since I'm majoring in Neuroscience, a few of the smaller programs didn't have enough science classes for me to take. Also, I'm minoring in Theatre and I'm really hoping there's a class about it at UCL, since I plan on seeing as many shows as possible anyway (or at least Wicked and Les Mis)!
Lastly, I can't wait to live in a big city for four months. I've been in Tennessee my whole life and the two times I've visited New York City, I loved it. I even tell people that I want to go to med school in a big city up North (but first, the MCAT…). Living in London can be like a test drive, so I can see how I do without sweet tea and hearing "y'all."