A Short Visit to Chicago
This weekend, I took a short trip to Chicago. And I mean short; we left Friday afternoon and were home by Sunday night. Nevertheless, I got to visit my family, go to a unique Chicago hot spot, and eat at my favorite restaurants. Here is a recap of my trip:
Friday:
We (my mom, dad, and I) arrived at the O'Hare airport around 5 PM. My brother, who has been in Nashville this summer, arrived around 10 PM. We didn't do much this day, just shopped, got accustomed to our hotel, and went to Portillos, a restaurant that I loved when I was younger and haven't been to in years.
Saturday:
After sleeping in (which is amazing when you have 8 AM classes all week), we traveled to Highland Park, a suburb north of Chicago where my grandmother lives. We picked up my grandmother and met my mom's college roommate for brunch at the Eggshell Café, my favorite breakfast place in the area. My mom's friend is a high school guidance counselor at a high school in the North Shore, and she told me there are SEVEN students from her school that are attending Vanderbilt in the fall. As a Student VUceptor, I hope to meet them and hope that one is even in my Visions group. Eating brunch with Margo made me realize that I hope to keep in touch with my college friends like my mom has.
After brunch we went for a drive along Lake Michigan. The views were stunning, and the neighborhoods surrounding the lake are so nice. We stopped in downtown Highland Park on the way back to my grandmother's house and grabbed gelato (yum!).
After dropping off my grandmother, we returned to our hotel and got ready for dinner downtown. We met my uncle and aunt at The Greek Islands restaurant in Greek Town. Greek Town is my favorite (this blog is starting to become "Allie's Food Tour of Chicago")! My uncle is a doctor, and both my brother and I are considering pursuing a career in medicine. It was nice getting to talk with him about medicine and hear about his experiences as a doctor. To finish off the night, we went to a late night show at Second City, a comedy club in Chicago. Famous comedians such as Steve Carell, Tina Fey, and Stephen Colbert starred at this theatre. The show was hilarious, and with the encore it lasted until 2 AM! Scott Adsit, an alumnus of the show who now stars in 30 Rock, even came on stage to perform improv with the other cast members.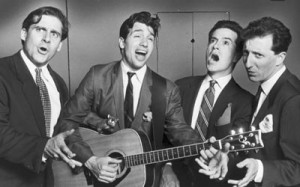 Sunday:
Well, we slept in again because we were dead tired from the previous night. Around noon we went to my uncle's house in Lagrange. We had a memorial lunch at his house for my grandfather, who passed away in May. I got to see my aunts, uncles, and cousins as well as meet new relatives. I enjoyed looking at old photos of my grandfather and remembering his life.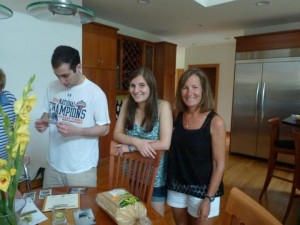 Around four, we left the memorial lunch and went straight to the airport. My brother got on a plane heading to Nashville and my parents and I boarded one heading to Atlanta. After a couple of hours of traveling by plane and car, I was back at home.
While my vacation was short, I enjoyed getting to visit my family and hang out in one of my favorite cities. With delicious food and a great comedy show, it was an excellent way to spend a weekend!