You Can Fly!
Internships are a big deal at Vanderbilt.  This summer in Washington D.C. there are select Vanderbilt students in the midst of completing their public service internships while others are fulfilling their HOD internship requirement.  But yesterday, there were few competing in an intense engineering battle: the paper airplane competition at the Smithsonian National Air and Space Museum.

My friend A. and I seemed to have a wee height advantage over our fellow competitors, an intimidatingly large group of little people around the age of seven.  We each crafted our planes, lined up, and were eliminated in nerve-wracking rounds of throwing our gliders through a hoop from increasingly longer distances.  Did our augmented age and height help A. or me to win?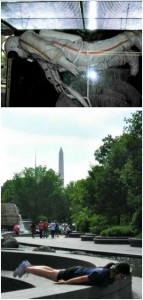 Two of my Blair buddies E. and A. had ridden the Megabus, briefly mentioned in my previous post, up from Knoxville to visit D.C.  so my friend J. and I arranged to rendezvous at the museum.  We became stewardesses aboard one of the first private aircrafts, experienced the buffeting of going through a sound barrier at a whopping 750 mph, played in the learning labs to understand air pressure, and designed part of the International Space Station… a simulation, of course.
Lunch at the National Museum of the American Indian was an undertaking, simply because there were so many foods to try!  From buffalo chili to a rhubarb cobbler, I ended up devouring fry bread dipped in a yucca, goat stew, chickpea crouton, braised kale soup.  Wandering up the four stories through different expeditions, we experienced cultures of the indigenous, culture-laden peoples who were spread out in unique nations of North America long before Columbus sailed the ocean blue.  Their deep, spiritual connections with nature, their animated music and dance, their oral traditions, and their ongoing struggle to maintain both their ancestral and American identities were all fascinating to read and watch.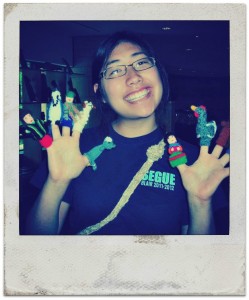 Back to the heated competition.  It was round three.  A. and I watched as many of our young adversaries ahead of us in line undershot the hoop, and I strategized my winning technique: aim higher!  It finally came to be A's turn. Whoosh.  Miss. Then it was my chance for victory.  Whoosh.
Miss.  Bummer.  A little man R. ended up winning in round five.  But that was all right because A. had a handy consolation prize in her pocket: Hershey's nuggets.
It was a pretty sweet day.