The Writing Studio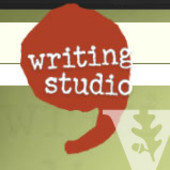 As a student in the College of Arts and Science, I am required to complete at least three writing based courses throughout my four years at Vanderbilt. One of these requirements is a First Year Writing Seminar. It might sound boring, but the topics are actually very interesting (For example, my class is about Disney!). However, it can be difficult to write papers, especially since this is the first course I have taken at Vanderbilt which requires me to do so. To help me in times of serious writer's block, I look to the Vanderbilt Writing Studio.
The Writing Studio is a free service offered to Vanderbilt undergraduate students, graduate students, and even faculty. There are two locations; the main office is in Alumni Hall and the satellite office is in the Commons Center. Both offices have very inviting atmospheres with private nooks for one-on-one conversations with a staff member. You can schedule up to three appointments per week, or you can just walk in and wait until a staff member is available. Each session is a 50 minute long meeting in which you can discuss whatever you want concerning your writing assignment.
What I like most about the Writing Studio is that the staff accommodates your specific needs. I have gone to sessions during various stages in the writing process (such as outlining, rough drafts, final drafts, etc) and I have always been provided with meaningful input that improves my paper significantly. The staff members have helped me reconstruct awkward phrases, think about different perspectives to incorporate into the weak sections of my paper, and combat my addiction of using the passive voice. I was first apprehensive about going to the writing studio… I didn't want to be embarrassed by criticism! However, this is no longer a concern; the staff is very friendly and provides constructive suggestions that do not degrade your confidence. I am comforted by knowing that what I am being taught will help improve my future writing endeavors. The Writing Studio is a wonderful service offered by Vanderbilt, and I recommend that any writer, beginner to expert, should visit their office. Don't forget, as the Writing Studio says, B.Y.O.P. (Bring Your Own Paper)!
A graduate student's testimonial: My consultations at the Writing Studio have been a valuable resource in writing my dissertation. The main focus of the work during the sessions was to clarify my wordings and ensure that I was not missing any logical steps in explanations. My consultant did a great job of pointing out areas that were unclear, and working with me to determine how to make the wording more directed.