AOII loves the Predators!
Last Thursday night, a bunch of AOIIs rode to Bridgestone Arena to see the last home game of the season for the Preds, Nashville's hockey team!

Eileen: As I mentioned last week, I had never been to a pro hockey game before. I'd seen exactly two hockey games…the Vandy club team vs. UT this year and last year, haha. I seriously recommend going to a Preds game, though!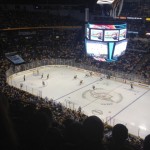 First of all, we went on College Night, so tickets were really discounted. Secondly, any pro sports event is fun. There were corny give-aways, a kiss cam, and someone even proposed via jumbotron! Also, since hockey games have three periods, there were two different bands to entertain the audience during each break. The first band even played Rocky Top! Lastly, hockey is so intense and fast-moving that I never got bored. The score was even 0-0 until the last period, when the Preds scored twice! I think my favorite part, though, was when a player from the another team was sent to the penalty box and the crowd stood up and cheered during the next two minutes, for the "power play."
Caitlyn: Unlike Eileen, this was not my first experience with a Preds game, and let me tell you,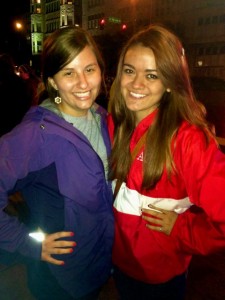 I love it more every time I go! While my heart will always be in Anaheim with the Ducks, Preds games are so much fun and it's always an experience made more fun by going with friends and getting into the "hockey tonkin'" atmosphere in Bridgestone Arena.  Where else besides Nashville can you hear a live band during the intermissions? My favorite part of the night was definitely going with so many of my AOII sisters and getting a chance to relax during a stressful time of the semester.  All in all, going to Preds games on College Nights and soaking up the Nashville hockey vibes is one of my favorite (under $20) pastimes!
(This post has been brought to you by a collaboration between Caitlyn Durning and Eileen Robinson.)