SEC Champs!
As Erica blogged earlier, this past Sunday, Vanderbilt upset No. 1 Kentucky to win the SEC tournament title in the New Orleans Arena.
My friends and I had docked in the New Orleans Port at 8 am that day. We had just finished our week-long spring break Cruise. There was no hesitating when we decided to postpone our roadtrip back to Nashville. We dropped everything and secured tickets to the game at noon – and so did many other Vanderbilt students that were on the same cruise.
Win or lose, we would have been glad we watched this championship game.  We love supporting our Commodores! But to see the emotional win made our spring break a trip to remember!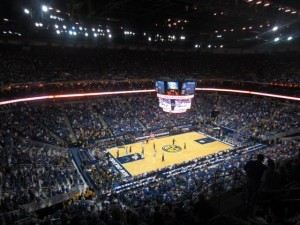 I watched the game on the edge of my seat, surrounded by Blue.  Luckily, the Kentucky fans were warm and friendly to us; we were so out of place, cheering at opposite times. Plus, we had to grab whatever clean clothes we had left from the cruise! Not exacly Vanderbilt colors…. oops! But I snagged a great tournament T-shirt.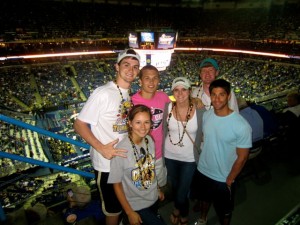 This was our first SEC Title since 1951.
Final Score: 71-65
Oh, it's Good To Be Gold!