ASB "Hangin' Around" in Kyle, South Dakota and Area
*Co-Authored with Ryan Khodadadi*
Ryan: Vanderbilt Alternative Spring Break (ASB) is a service organization on campus that coordinates spring break trips of about 10 to 12 students to over 35 sites across the United States and overseas to countries such as Nicaragua and the Bahamas. Founded in 1987, Vanderbilt ASB was the first service break organization of its kind at any institution. Today ASB is a popular trip not only at Vanderbilt but at numerous institutions across the nation.
About a week ago, I returned from the ASB site "Hangin' Around" in Kyle, South Dakota which is on the Lakota Pine Ridge Reservation in southwest South Dakota. We spent our days volunteering in Porcupine Elementary School classrooms during the week and then participating in cultural events at night.
The symbol representative of ASB is the triangle because the spring break experience is composed of three components: service, reflection, and education. I have been a participant on an ASB trip during all of my three spring breaks at Vanderbilt and I can say with the utmost confidence that education on Hangin' Around was at an absolute premium. I arrived in South Dakota knowing close to nothing about the Lakota Souix except for what I had read in history books in high school and left after a week much more aware of Lakota culture, history, and government.
Samantha: Monday through Thursday, the 11 of us ASBers and temporary South Dakotans made the 20 minute drive in our two "jank" minivans to Porcupine Elementary School, a local school on the reservation.  Upon arrival, we were split up in pairs between the grade levels, and I ended up with the sassiest group of 5th graders I've ever met.  Most of the other Vandy kids were paired with Kindergarten or 1st grade classes where the kids were quick to latch on to their new assistants, but this was definitely not true in 5th grade.  At first, the kids wanted nothing to do with my fellow ASBer, Quela, and me because we hadn't gained their trust.  However, throughout the week, most of the kids warmed up to us through intense games of basketball during P.E. and iPhone photo shoots during lunch.  We helped out in Mrs. Yellowboy's class, where we helped tutor in math and reading, grade papers, and make bulletin boards for the teacher.  Mrs. Yellowboy said she could not iterate enough how much our help was appreciated and that we would be greatly missed.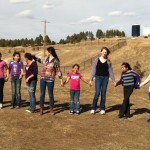 Through our service at Porcupine, the sad realities of the reservation became more apparent.  The extremely high rate of unemployment in the area meant that many children and their families were living off of government welfare alone.  Later in the week, I was talking to two girls during their reading period, and they casually told me about their sad family backgrounds that included relatives in prison, abusive parents, and premature deaths in the family. On top of that, in a class of twenty 5th graders, not a single child was reading above a 3rd grade level.  It was huge for the teachers at Porcupine to have a few extra helping hands for a week, and I sincerely hope that we left as much impact on the kids we tutored and taught over Spring Break as they left on us.
 Ryan: In addition to conducting service at Porcupine throughout the week, we were also able to travel around the reservation and to the surrounding area. One of the most notable events involving Native Americans and the United States occurred on the Lakota Pine Ridge Reservation in 1890 at Wounded Knee. We saw the site where Chief Spotted Elk, also known as Chief Big Foot, surrendered to the United States 7th Calvary Regiment before the massacre at Wounded Knee took place. Nearby, we also saw the site and mass grave of the infamous Wounded Knee massacre. I had read about this important event in United States history for years and it was great to finally see where the actually event took place. Other sites of note included the Badlands National Park, Custer State Park, the largest mountain carving operation in history (Crazy Horse Mountain), and the Black Hills where Mount Rushmore is located.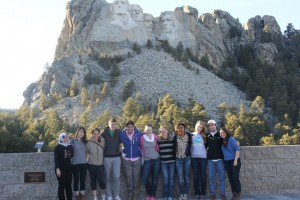 Samantha: A very cool (and slightly frightening) cultural Lakota experience that we got to participate in was the sweat lodge. Our host, Indian Joe, alluded to the sweat lodge all week, and I started to get nervous at the prospect of sitting in a tiny hut with 12 other people and baking in my own sweat to the tune of traditional Lakota songs. The sweat lodge involves wearing a tee-shirt and shorts into an igloo-looking hut on the ground and sitting in a circle around smoldering rocks.  The host pours water on the rocks to keep increasing the temperature and steam in the hut to an almost unbearable level while a drum beats and a Lakota song is sung, and the whole process is meant to purify the body and soul.  The experience was rewarding, however, and even though we all emerged about 30 minutes later with sweat dripping off of our bodies, we all felt a sense of accomplishment.  We didn't die!
Lastly, our obsession with the song "Call Me Maybe" by Carly Rae Jepsen led to this happening: