Parlez-vous Francais?
It's one in the morning, my room is a disaster, my homework is not done, and what am I doing? I'm blogging, of course.
Before I start, I'd just like to apologize for my recent lack-of-blogging.  whoops. Anyways, second semester is off to a wonderful start!  Because I officially decided to major in Cognitive Studies and Medicine, Health, and Society (MHS) with a minor in French, the classes that I'm taking this semester are a lot more cohesive.  For Cognitive Studies, I'm taking Educational Psychology and Minds, Brains, Contexts, and Cultures (an intro to the Cognitive Studies major).  For MHS, Society and Medicine and Fundamentals of Medicine, Health, and Society.  And lastly, for French I'm taking French Composition and Grammar.
When I first enrolled in this French class, I was super nervous.  So far I've only taken intro French classes at Vandy, and to be honest they were both probably way too "intro" for me to have taken them at all.  Anyways, I walked into this class the day classes began fearful of the professor, the students, the book…you name it, it made me nervous.  My fears were immediately cast aside as soon as my professor opened her mouth–she was SO NICE.  And our main project for the semester includes Facebook.  Seriously, what is better than that?  In the opinion of this social media addict, absolutely nothing.  My class currently has French personas that we each have assumed, and these people have Facebooks.  (for those interested, the name of my alter ego is Sophya Rochette. Go ahead, look her up; I know you want to.)  We've all been invited on a mysterious cruise by an equally mysterious benefactor, and who knows what will happen?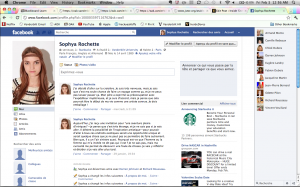 The amazing curriculum that's been developed for this French class just shows me how much professors at Vanderbilt want to keep the students engaged in the material.  I know for me personally, having massive amounts of reading to do every night for class is not the way to academic success.  I swear I have the attention span of a goldfish, no matter how interesting the reading.  Having this Facebook component to the class really makes a difference for me, and I'm sure to many other students as well.  Facebooking in French isn't just educational, it's fun!