The Original Cast Presents Fingerprints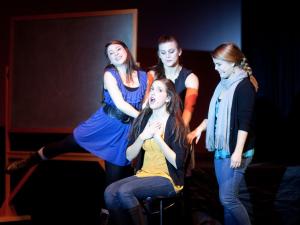 All this weekend, the Original Cast is performing their show this semester, Fingerprints. The Original Cast is a revue troupe that takes songs from various musicals and puts them together with their own plot. I've written about Cast performances before but last night may have been my favorite because it featured songs from Spring Awakening, the greatest musical ever (in my humble opinion).
The story took place at a high school where all different types of relationships were explored. There was a love triangle, a boy trying to come out, kids dealing with their parent's divorce, and other high school drama. Characters who were involved in the same conflict wore similar colors, which made it easier to follow all the plot lines since there was a fairly large cast. There were also three narrators who acted as "orientation leaders" to the new kids (the audience) and gave some background on the school and its students.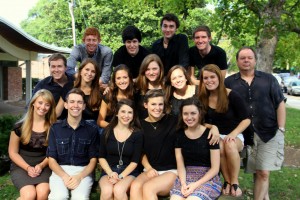 The show had a great selection of songs you could nod your head with while also slowing it down when the drama intensified. The fabulous Seth Friedman once again showed off his acting/singing chops with the challenging character of Jason, similar to Moritz from Spring Awakening.
Also, when flipping through the program, I noticed how many talented freshman were involved in this production. I'm happy to know Original Cast shows will remain at such a high quality level during my time at Vanderbilt.