My Hopes for the Spring of 2012
First, let me say that I am beyond pumped about this coming semester! Sitting at home, not so far from campus, I have some hopes for what I expect my semester to be like.
First, I hope to really thrive in my courses. I'm enrolled in courses that I actually really care about (save Logic [I need it for an AXLE credit]– but it still interests me).  I have two professors (K. Crawford and D. Rubin) that I have already taken in past semesters, and I liked them a lot!
While I'm talking about these two professors, I'll use this moment to shamelessly plug the Women's and Gender Studies Department. These professors are some of the most approachable that I have ever encountered. Guy or girl–I highly, highly, HIGHLY suggest that you (at any time) take the intro to Women's and Gender Studies, WGS 150(w).  It is one of the most eye-opening and inspiring courses I have ever taken… hence my WGS major status. I honestly think it should be required, but that is just me! :)
Anyway, I am feeling so great about my professors, courses, and even the buildings in which I'll be taking this classes (I love Calhoun and Wilson!)
Next, I hope I can get back in shape.  This is difficult after your class ends at 4pm, you were up all night before, and your bed looks SO inviting; however, I'm determined to make it happen. I honestly really enjoy working out (believe it or not..). The problem will be collecting enough willpower to make my way to The Common's gym. I just like that one better.
I hope to start meeting with the Writing Studio more.  This semester, I'm taking some writing-intensive courses that will no doubt test my ability to crank out several essays a week. The Writing Studio (that I honestly forgot to take advantage of this past semester….dumb mistake) is so awesome! They help you at any stage of your writing process: brainstorming, drafting, revising, and even after you've gotten a grade back.  It's run by mostly graduate students studying a multitude of subjects. You sit down at a desk together, it's super casual, and I have always found them extremely helpful. Don't be nervous! (Easier said than done and coming from an introvert.)
I hope to really learn to manage my time better.  This would mean: less naps (good luck with that, Malina), possibly more late nights (Last Drop Coffee Shop, here I come!), and scheduling my life to the minute (thank goodness I got a new planner over the holidays!).  I honesty enjoy having a busy schedule, writing in my planner, attending events, doing theatre, studying in the library, and drinking lots of coffee. The difficult part will be pushing through that 2:30-6pm lull in energy.
Also, along with my time management, I hope to get to church more often.  I attend mass at the Cathedral of the Incarnation right beside Qdoba on West End Avenue. It is such a beautiful church, and it really inspires me to keep attending.
Lastly, I hope it snows soon! This has probably been Nashville's mildest winter yet. Bring on that "freshly fallen, silent shroud of snow" as Simon and Garfunkel would say.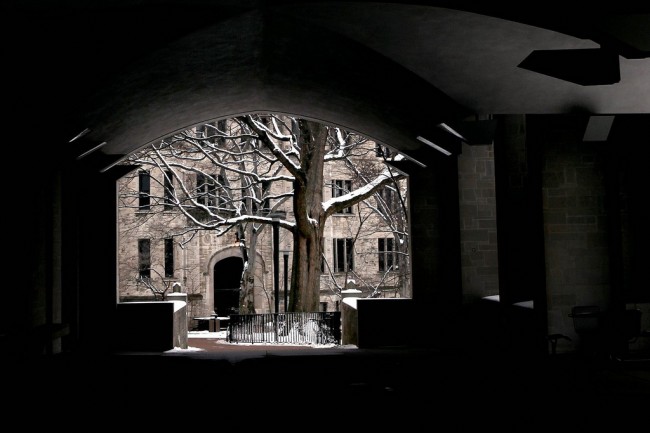 (both Calhoun and snow from this past January)
We'll see how all of these hopes and dreams pan out as the semester goes on!