DONE (with classes at least)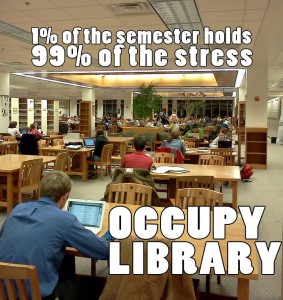 It feels nice to be officially done with classes, especially considering I thought I would be in class for two more hours than I actually was today.
Normally I have Organic Chemistry from 9:35-10:50 am, and Human Sexuality from 11-12:15. Last week, though, we had our last Human Sexuality test and that class doesn't have a final. The last two lectures were supposed to be mandatory and good wrap-up sessions, but we got off easy and today's class was canceled. Also, since the Orgo final isn't until a week from tomorrow, no one really had any questions in class so he let us out around 9:50.
Now I have a bunch of free time until finals, which is good and bad. My theatre final, which isn't cumulitive—so it's not too stressful, is Tuesday morning. Then I have Orgo on Friday, December 16 in the morning, and Bio on Saturday, December 17 in the afternoon. It's good that I have so much time until my two hardest finals, but I also wish I could get them over with sooner.
Most of my friends who go to other schools finish finals before me, which of course they've rubbed in my face, but they've agreed to come pick me up and have an adventure in Nashville as soon as I'm done. Knoxville is only 3 hours away so I've also told them that if they get bored any time next week they are welcome to come distract me from too much studying.
For now though, I'm going to take a nap and clean my room and enjoy having nothing to do for the day.