Acting for an "A"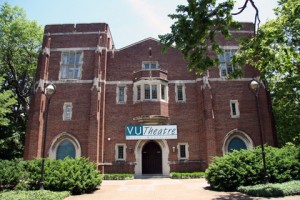 For my Fundamentals of Theatre class, the final project was performing a short scene for the entire class. We were not simply given a script and told what to do by our professor, but rather the performances were entirely student-run. Everyone was broken up into groups and assigned roles: director, actor, designer, dramaturg, or playwright.
The director was obviously the leader of the group, scheduling rehearsals and staging the blocking, along with coordinating all the other roles.
The actors had to memorize their lines and try to understand the characters, and of course actually perform for the class.
The designer helped set the scene by finding a picture that worked as a background, that was projected onto a screen in Neely Auditorium, and advised the actors on what to wear on the day of the performance.
The dramaturg was in charge of research (checking any facts mentioned in the script) and created the program to give the audience an idea of what to expect and also give some background.
The playwright wrote the scene and then worked with the director to see it carried out as he/she imagined, while allowing for new ideas to still be incorporated.
A few weeks before the performance dates, we got to rank which roles we'd prefer, and could submit scenes we'd written earlier in the semester to be considered for the playwright. Dr. Essin then assigned everyone a group and we got to work.
I was an actor in my scene, which was fun because the director and playwright were really helpful with their directions and completely understanding about my lack of experience. Not to mention the other two actors in the scene were super talented—one of them appeared in The Green Bird, by VUT, and the other starred in Cosi Fan Tutte, the opera presented by Blair earlier this semester. We performed the scene yesterday and it wasn't too shabby, if I say so myself.
At a time when most students are feeling overwhelmed by tests/papers in almost every class, it was nice to participate in a legitimately fun project, and then get to watch a few more performances by other groups before rushing off to our next classes.