Pre-Exam Mega Stress Fest!
This Friday is the Vanderbilt Office of Housing & Residential Education's annual Mega Stress Fest!  This event is put on every year in an attempt to help students get some much needed stress relief before exams begin the following week. Even though we're all back on campus, fresh from the rest we all got over Thanksgiving break, nothing stresses anyone out like the thought of exams approaching–all that studying, cramming information in your brain and the general lack of sleep!
Vanderbilt is very in-tune with its students needs and knows that all we want in the world right now is to have something to counteract all that stress build up in the coming few weeks.  So, this Friday students will be able to sign up for a variety of relaxing activities starting at 6PM, which they will partake in later that night.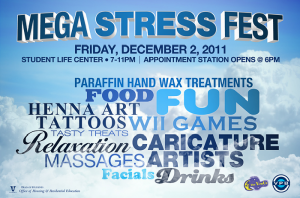 I know I have a ton of work this week even before exams start (for some reason I thought it was a good idea to take a lot of classes that had final projects and papers instead of exams).  Anyway, I'll be attending the Mega Stress Fest this Friday in the Student Life Center before heading out to dinner at Bella Napoli with some friends (It's kind of our exam time tradition)!  I'm going to get some quick stress relief and then it's back to work!
As well as food and drinks, here are some of the things that are offered at the event: