I Love Variations
You know when you're just having a rough week and all you need is a little break to renew your spirits?  I found my secret weapon for getting through a busy schedule.I have always loved to sing; even though I'm definitely not what you'd call a talented singer, I can definitely hold a note and read basic music.  In middle school, I took Chorus and we even managed to win one year at Music in the Parks, a choral music festival at Six Flags.  Anyway, when high school rolled around, I didn't really have time anymore for singing–besides, of course, singing along to the radio.  I did audition for my school's a Capella group a few times and got called back, but it didn't stick and so my singing dry spell continued.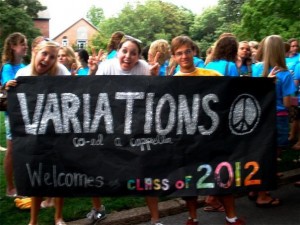 This year, however, I got the courage to audition for Variations, a co-ed a Capella group on campus.  When I heard I made the group, I was a little taken aback but mostly just thrilled to finally sing regularly in a group again!  Unlike my high school's a Capella group, Variations is student run and the group collaborates to choose songs to include in our repertoire each semester.  Also, we don't do boring slow songs; some of my favorites from this semester's music are:
– What's My Age Again? by Blink-182
– Cowboy Take Me Away by The Dixie Chicks
– Soul to Squeeze by The Red Hot Chili Peppers
– Rolling in the Deep by Adele
– Boondocks by Little Big Town
– Africa by Toto
My parents think that two hours of rehearsal twice a week (Sunday and Tuesday) on top of everything else I do is pushing it, but I think it's completely worth it.  If I'm ever having a bad day, I know I can look forward to practice where I can get some stress relief by just singing some amazing songs with a talented and wonderfully eclectic group of people.   The best part, actually, is the people.  I wouldn't have met many of my fellow Variations members otherwise, and I'm so glad I joined!