Football Time in Tennessee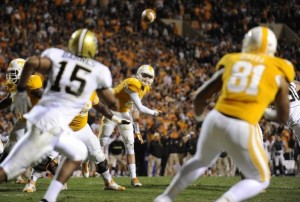 As you might remember, I'm from Knoxville, TN. When I realized the Vanderbilt/University of Tennessee football game was the first Saturday of Thanksgiving Break, I knew I had to go. Conveniently, my friend Victoria came home with me for the last two days and helped me spread the Commodore spirit at the game.
We arrived downtown in our black and gold and stuck out like sore thumbs. Every now and then we'd see a fellow Vandy fan and annoy my UT friends with a loud cheer. Victoria and I went to find our seats, which were really close to the field but surrounded by Vol fans (that didn't quiet our cheers though). The Spirit of Gold marching band and a good amount of students were also at the stadium, so we weren't really alone.
The game began and was super intense. The score was always close and both teams threw interceptions. My favorite play was when #15, Archibald Barnes, intercepted a throw and ran 100 yards for a touchdown, while Victoria jumped up and yelled "THAT'S ARCHIE THAT'S ARCHIE!!" She had taken a class with him over the summer and was especially happy when he scored.
The game even went into overtime, but Vandy suffered a tough loss. UT intercepted our attempt at a touchdown and ran it back for their own touchdown, except the play had to be reviewed because no one could tell if the player's knee had touched the ground near the beginning of the play. The refs eventually ruled in UT's favor, with a final score of Vandy 21, UT 27.
Even though we lost the football game, we kept it so close that every Dore fan was proud of the team. Also, after the game, Victoria and I got to see our friends in marching band before they left to go home for Thanksgiving break. The football game was a great time to show my Vandy spirit to my Knoxville friends, while showing Knoxville to my Vandy friends.