Black Friday Fun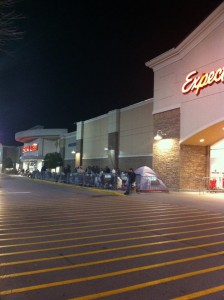 I'm proud to say that last night I shopped during Black Friday and made it out alive. It was my first time, so I was afraid the crowds would be crazy but it was actually a pretty organized event and I was back in bed by 1:30 am.
My friends and I had decided earlier this week that we needed to try Black Friday at least once. We heard that Target was opening at midnight, meaning we wouldn't have to wake up freakishly early but could just stay awake an extra hour or two, and got pretty excited. Then we learned that Chick-fil-a was opening at 12:01 am on Friday and we were sold.
The line at Target was pretty long but we got there around 11 pm and managed to be relatively close to the store. While waiting, I mentioned how I should be studying for my Human Sexuality test next week, so I gave my friends a lesson in STDs. I might have distracted some of the people around us but they didn't seem to mind…I think. Once midnight rolled around we were in the store pretty quickly and explored different sections to see the sales. I didn't have any specific gifts in mind so it was great when I stumbled upon multiple items that reminded me of friends from Vandy. We went to check out and the line only took a few minutes because they were so organized. Afterwards, we got chicken biscuits from Chick-fil-a and I went to bed very happy.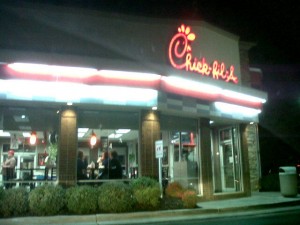 Now I just need to call my friend Victoria (who stayed with me for the Vandy/UT game) and swap Black Friday stories, since it is an intense family tradition for her and I'm sure she stayed out until 5 in the morning, finding the best deals at every store in a twenty-mile radius.