A Dorm-Room Thanksgiving
Every year now, my friends have all organized a special Thanksgiving dinner where we all get together and eat.  And eat.  And eat!  Can you tell that there's always a ton of food?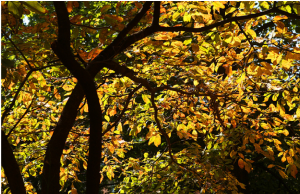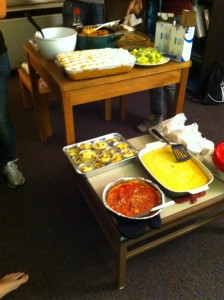 This year's Thanksgiving was much easier (and much bigger) than ever before.  See, most of us are living in Lewis House this year, which means that we have kitchens!  While most dorms have at least one kitchen in each building, it's so much more convenient to have your own stove, oven and equipment.  The main organizer of this event made sure that we didn't have too many desserts (which I don't really see as a problem).
Since my apartment is directly across the hall from some friends', we moved all the tables into my living room and all the chairs into his.  That way, we had the food in my room and we all could sit together in his.  We had quite an assortment of food.  I made pumpkin bars (to be festive) and a dip appetizer I've made for the past three years.  We also had several casseroles, a pizza, quiches, Chinese food (homemade food, frozen dumplings, and delivered wontons), and just a ton of stuff
It was really a fun night.  We did have twenty people squeezed into the dorm living room, but it actually wasn't as uncomfortable as I had thought it would be.  While the food was delicious, I really enjoyed just having everyone together for one last celebration before the break.  It's a tradition I look forward to every year!