Favorite Study Spots
As a college student one of the most important decisions you make on a regular basis is where to study. It truly is a personal choice, based on whether or not you need silence or a little bit of noise, whether you are studying alone or with a group, or whether you want to be comfortable enough to take a brief nap if necessary! Luckily, Vanderbilt has study spaces all over campus that will accommodate you no matter what type of study space you are looking for. In order to help you guys find the best study space for you, I've decided to list some of my personal favorite study spots around campus.
1. Peabody Library-Being a Special Education and Elementary Education major, I spend most of my time on the Peabody side of campus. Since I already spend a lot of time on Peabody, it makes sense that I would study there too. Peabody Library is an Education student's dream come true. It has an entire room full of children's books, a room with a die cut machine for creating activities, and a room of activities to supplement lessons. For those of you who aren't Education majors, Peabody Library still has something to offer. There are rooms you can reserve for working on group projects, a yummy café on the lower level, and a relaxed food a drink policy that ensures you can snack while you study.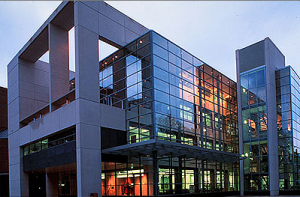 2. Biomedical Library-Biomed is my favorite place to study when I need to get a lot of work done.There are lots of places to study, including small cubicles that ensure you won't get distracted by other people. One of the sides of the building is made up completely of windows, which allows you to have a nice view and some natural light while studying. Finally, Biomed offers free printing up to 30 pages, which definitely comes in handy when I have to read an article for class.
3. Rand-In my opinion, Rand is the one of the best places on campus to work on group projects. Since it is in a centralized location, it is easy for most people to get to. There are also a wide variety of table sizes in Rand to accommodate any number of people. Perhaps the best thing about studying in Rand though is that since it is a dining hall, you can eat while you study! However, it is best to try to study later in the evening rather than during dinner hours, since it is usually pretty loud during dinner.
4. My Mayfield-Sometimes I enjoy simply studying in my Mayfield. (Side Note: A Mayfield is a living learning community where 10 students live together in order to work on a year long project they have designed). We have a large living room space downstairs that has several couches, chairs, and beanbags. There is almost always someone studying there, so I know I will always have company. However, if I need to study somewhere quiet I always have the option of moving upstairs to my room. I particularly like studying in my Mayfield if I am going to be up late, because that means when I am finished with my work I don't have to travel far in order to get to my room and get some rest.