The National Folk Festival
This weekend was the 73rd National Folk Festival, and my friends and I went not once, but twice.
The (FREE) event was downtown on the Bicentennial Capitol Mall, next to the farmers market.  I haven't spent much time in this area of Nashville, so this festival was a great opportunity to get off campus.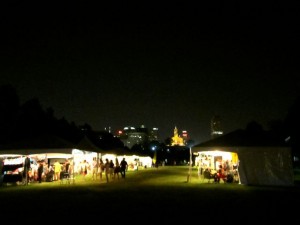 The Mall has the perfect view of the Nashville skyline at night, with the brightly lit Capitol contrasted against the city buildings.  Friday night, we wandered down to the main stage to catch the end of Dale Ann Bradley's performance, a bluegrass singer from Kentucky.  Bluegrass is not a prominent genre in my own music collection, but from my years in Nashville I have learned to enjoy and really appreciate live bluegrass – so authentic and raw.  The next show surprised me, La Excelencia – an 11 piece salsa orchestra!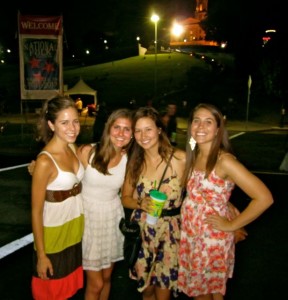 After a few songs and some attempted salsa dancing, we walked down the Mall and checked out some of the vendors.  My personal favorite was the Honeybee Farm & Pantry; I bought all natural sweet potato butter and moonshine jelly. Delicious!
We finished Friday with a cajun band: BeauSoleil avec Michael Doucet.  This band played on a different stage, everyone hit the dancefloor for some fun swing dancing.  It was a hot night in Nashville but despite all the sweating, we had enough fun to head back downtown Saturday night.  This time we visited a different stage with Hula dancing and breakdancing! Who knew "Folk" could encompass such a wide variety of styles!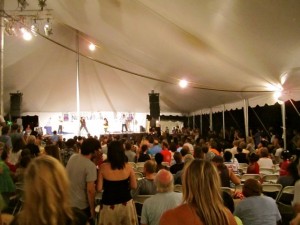 Check out these performers here:
Hula Hālau 'o Keikiali'i
Massive Monkees (Season 4 of MTV's America's Best Dance Crew contestants!)
Best news to anyone reading this? You can check out the festival in Nashville next year! From the Folk Festival home page:
"One of the most prestigious and longest-running celebrations of the arts, the National Folk Festival, is coming to Nashville for a three-year tenure beginning in September of 2011. The National Council for the Traditional Arts (NCTA), the organization that created and has produced the National Folk Festival since 1934, recognized Nashville's unique cultural assets and strong community spirit in choosing Nashville as the National Folk Festival Host City for 2011, 2012 and 2013, the festival's 75th anniversary year."