My Sister Visits Vandy!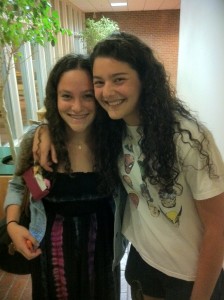 This past weekend, my sister Brittany visited Vanderbilt. Below are her thoughts about her weekend:
Hi I am Brittany Graff, Erica's little sister and I just came to spend the weekend at Vanderbilt. I am a junior in High School in Miami Beach. This was my first official college visit, and Vanderbilt was a great place to start my search. On Friday morning I got to sit in on a Human and Organizational Development (HOD) class, which was extremely interesting. HOD is unique to Vanderbilt and is highly recognized worldwide. After attending class I went to the information session and tour given by the Undergraduate Admissions Office. I learned so much about the school, the application process, and college in general.
The programs here aren't the only things that are top notch. The food at Vanderbilt is delicious. My sister took me to many places both on and off campus. Some of my favorites were Grins, Rand Dining hall, Fido, Calypso Café, and Café Coco. Most of these places were on the Commodore card, which was really convenient, because Erica could use her meal plan for both of us.
Everybody is so nice. Vanderbilt has a great sense of community. Everybody knows each other and everywhere I went people smiled and said hello.
Vanderbilt may have been my first college visit, but I would be honored to come here.