The Parthenon and Pancake Pantry
This is the first summer I have spent in Nashville but about three weeks ago, five of my close friends from my hometown came to Vanderbilt for the 4th of July bringing a little glimpse of summers past with them. It was great getting to see so many close friends in one place as many of us are scattered all over the country now after making our college choices back in high school.
When they visited, they were intent on seeing things that are uniquely Nashville. So, it got me thinking, what are some places around Vandy's campus that are unique, things you can't find many other places. Two things came to mind: the Parthenon in Centennial Park and the Pancake Pantry in Hillsboro Village.
The Parthenon in Centennial Park is visible from Vanderbilt's northern border along West End Avenue. The building is actually a full-scale replica of the original Parthenon in Athens, Greece. The building was created for the Centennial Exposition in 1897 and currently serves as an art museum. Centennial Park itself is a hot spot during the summer and is the site of movie screenings that are open to the public. The park also boasts a huge sports complex where even some of Vanderbilt's athletic teams compete when hosting competitions. There is an ice skating rink, an Olympic size pool as well as many more facilities.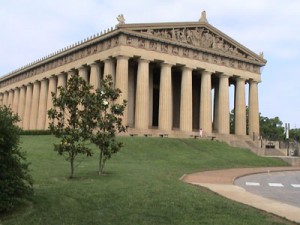 If you haven't been to the Pancake Pantry, you are missing out! The Pancake Pantry is a Nashville Tradition and first opened its doors in 1961 and the line has been out the door ever since. On any given weekend or holiday you can find a long line weaving down 21st Avenue containing hungry patrons of the Pancake Pantry. My favorite pancakes to order are the swiss chocolate chip pancakes but they are known for their sweet potato pancakes. In reality, you really can't make a poor choice while at Pancake Pantry because all of their selections are great.