SEC Media Days
Calling all college football fans, in particular those whose allegiances lie in the Southeastern Conference (SEC). For those die hard SEC football fans, this marks the beginning of the end of the sleepy summer news cycle; football is almost back! Starting tomorrow, the coaches of the twelve member institutions and three representative players for each team will gather in Hoover, Alabama (outside of Birmingham) for the traditional SEC Media Days to usher in the new college football season.
For those who follow the sport, it is well known that over the past decade the SEC  has consistently produced contending teams capable of winning the national championship each year. This has been rather evident in the past five years as the last five national champions have come from the SEC. This past college football season, the Auburn Tigers defeated the Oregon Ducks in the BCS National Championship game capping off a perfect season, their third in the past twenty years. With that in mind, it's safe to say that there will be a lot of star power in Hoover this week including the defending national champions as well as other well-established college football programs who have been victorious in recent years.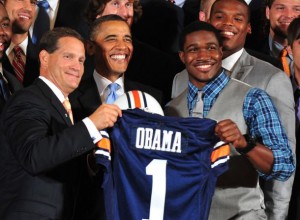 Tomorrow's SEC Media Days will also feature first year Head Coach of the Vanderbilt Commodores James Franklin as well as three other 'Dores including linebacker Chris Marve, cornerback Casey Heyward and quarterback Larry Smith. Many people will be very interested to hear from Coach Franklin in one of his first public appearances since he began Vanderbilt's recruiting tear this summer which includes some top-flight talent. This will also be the first opportunity for the SEC media to get their questions answered by Coach Franklin as Coach Caldwell was present at these meetings last year for Vanderbilt.
So football fans, get ready because there is a light at the end of the tunnel; we are less than fifty days until kickoff!