Holi
Holi, also known as the Festival of Colors, is one of the most popular celebrations of the year for people of the Hindu faith. It is considered one of the happiest days of the year and this past Saturday, Vanderbilt's Masala-SACE student organization hosted their very own Holi event on the lawn in front of Wilson Hall on campus. The Vanderbilt student organization Masala-SACE, grouped under a larger branch of student organizations known as the office of Leadership Development and Intercultural Affairs, is geared towards promoting the awareness of South Asian culture here at Vanderbilt. They also host events throughout the year such as Garba and Diwali which are great cultural events here on campus.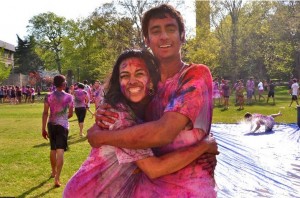 I was fortunate enough to attend the Holi celebration this weekend and had a great time. Little did I know until I learned about Holi from my friends that powdered paint was involved in the celebration.I was very interested to learn about the significance of the celebration before I took part in it. It turns out that the throwing of the powdered paint or watered down paint (it varies) signifies the coming of spring with all its beautiful colors and vibrant life.
When I arrived, I was in shock to see everyone throwing powdered paint at each other from all directions. This was the first Holi celebration on campus I have been to since I was unable to attend during the spring of my freshman year. Now that I have experienced Holi at Vanderbilt, I can't wait for next year's version but until then, I will attend the great performances that Masala-SACE hosts next semester!