Food for Thought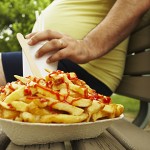 I'm officially done with one of my four classes! I'm about to turn in my research paper for my American Studies writing seminar Food for Thought (I think it's actually the same one Erica took last semester).
For the final paper, we were allowed to pick any topic that related food and America somehow. These broad requirements allowed for pretty cool subjects, like the history of pizza, food and its comedic role in movies, and even women and their relationship with chocolate.
I wrote my paper on obesity in the South, since Tennessee is now the second fattest state in America, with 31.6 % of residents obese. I determined the major factors of this situation are poor economic conditions (since healthy foods are so expensive), traditional Southern culture and eating habits, lack of public transportation (meaning most people drive a car from point A to point B instead of walking a few blocks to a bus/train/subway station), and even the weather, since the heat and humidity often discourage outdoor activity.
This was a really cool topic to learn about since it's so close to home (I'm from Knoxville, TN in case you've forgotten). The fact that we could essentially choose our own subject ensured that we researched material that actually interested us.