Random Weekend Festivities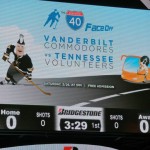 This weekend was randomly busy for me, but in a very fun, I-didn't-do-much-actual-homework kind of way! Friday was the AOII formal, and then Saturday kicked off with the Inaugural I-40 Faceoff: Vandy vs. UT hockey game!
One of my friends from Sutherland plays club hockey for Vanderbilt and wanted some support for the last game, so Victoria, Aly, and I figured why not? I had never been to a hockey game before and can definitely say I'm a fan now! They played great music, the game was intense, and Vandy won 6-2…what's not to love?
Later on Saturday, I went to a friend's awesome senior recital at Blair and then to Fido with the usual gang (I feel like I always write about eating at Fido but I swear I eat there a normal amount of time). Then, today, my Commons Seminar about musical theatre ventured to TPAC to see In The Heights (which Erica saw on Thursday)! I didn't really know much about this particular musical, but of course I really enjoyed it anyway, as it dealt with relatable themes like being good enough for others, handling money problems, and finding one's identity.  We stopped by the always-delicious Qdoba afterwards to round out the great weekend. There's never a dull moment at Vandy.