Vanderbilt Kentucky Basketball Game
What were you doing Thursday night? Surely you weren't as cold as some Vanderbilt students were who decided to take a camping trip. Shortly after Vanderbilt's victory over Alabama on Thursday night, a few students started setting up tents in preparation for arguably one of the most important games of the Vanderbilt season; the Kentucky game.
I woke up Saturday morning at 8:00 AM and made it to Memorial Gymnasium by 8:45 AM to wait in line with some friends for this exciting SEC game. The doors opened just after 10:00 AM and students flooded in to take their seats two hours before the noon tip. Vandy Fanatics, a student organization campus that promotes athletic events and school spirit handed out free t-shirts to some of the first students to enter the building.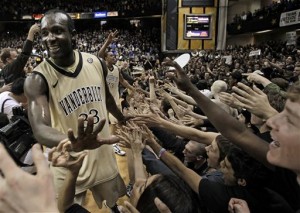 The atmosphere in Memorial this afternoon was second to none and really complimented the great game our 'Dores played against Kentucky. The students played an important role in the game as well making Memorial a loud and uncomfortable venue for the opponent. It was a close game throughout but late in the second half John Jenkins, a sophomore shooting guard, stole the show scoring 32 points, carrying Vanderbilt to victory. Vanderbilt will make their trip to Lexington, Kentucky on March 1st for the second leg of this match-up.
*The picture was taken from the Commodores Photo Gallery.