Tortellini Tuesdays
Much like Morgan in her post about Grins, I was really worried about food when choosing college.  See, my mom makes the most delicious homemade dinner every night, so it was daunting to find a school that had food half as good as home.  There are tons of delicious places to eat on campus, and tons of delicious things to eat.  Full disclosure: there are also some gross things, but I just try to avoid them and focus on the good things.  One of my favorite things is Tortellini Tuesdays.
On Tuesdays, Rand, the main dining hall on Main Campus, has tortellini – the best tortellini you've ever had.  It seems like the entire school turns out, because the lines are three miles long and take forever, and basically every table in Rand is filled.  But, I think it's definitely worth it.
After twenty (or thirty, or even forty) minutes, you finally get to the front of the line where you get to customize your tortellini.  The tortellini is cheese, and I always get mine with chicken and a pinch of garlic.  Some healthier people also add vegetables like zucchini and squash, but I'm not that kind of person.  Then, you get to choose marinara or alfredo sauce, in which they saute your tortellini.  The secret is to actually get both sauces mixed together.  It's equal parts creamy and tomato-y.  Simply amazing.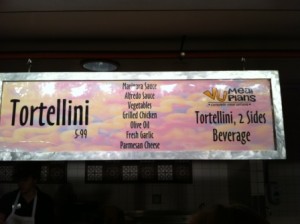 It's really important to watch the cooks and figure out who the best is.  I always go to Una.  She's quick, the tortellini is delicious, the portions are perfect, and she's one of my really good friends.  That means that I get to have a fun conversation with while she cooks my dinner – and I look really popular to people who don't know Una.  Win win!
Tortellini Tuesdays are quite an experience.  I always try to budget enough time on Tuesdays to get my fill of that delectable pasta.  It was well worth the thirty minutes I waited in line tonight