Spring Awakening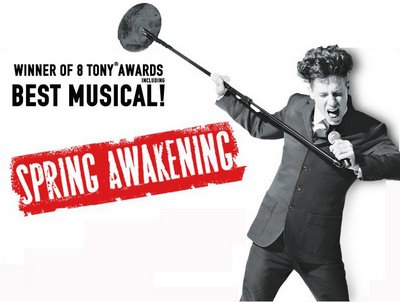 This past weekend, my favorite musical was in town: Spring Awakening. Being the devoted fan I am, I saw it twice in less than 24 hours. I know that sounds a little crazy/stalker-like, so let me explain.
I originally saw Spring Awakening last year in Atlanta and LOVED it. One of my friends even gave me a 176-page book entitled "Spring Awakening in the Flesh" for my birthday (I think I might reread it over Spring Break). Last fall, when I heard that the musical was touring again and going to stop in Nashville, I bought tickets right away. It wasn't until I signed up for my Commons Seminar, "The Theater Will Rock: Exploring the Contemporary American Musical Theatre," that I realized I'd be seeing the show with my class too. So, Saturday night, my friends and I went to dinner at Mafioza's and then to TPAC, and they enjoyed the musical as much as I did. Then, Sunday afternoon, our class saw Spring Awakening too. On Tuesday, we are going to discuss the musical and compare it with the original play "Spring Awakening: A Children's Tragedy" that we read last week. Needless to say, I'm pretty excited for class Tuesday.
The musical itself is a coming of age tale set in late –nineteenth century Germany. Spring Awakening does have mature content, but it is done artistically, and the overall effect is very moving. Not to mention the rock music is awesome to sing along to. For anyone bored or curious, my friends and I actually performed one of the songs at a chorus concert in high school (no judgement). Of course, we are nowhere near as good as the Original Broadway Cast. So for any musical theater nerds like me, check and see if Spring Awakening is coming anywhere near you because you won't regret it!