Oh, this has gotta be the good life/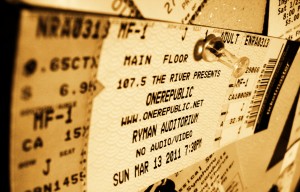 I have 2 jobs and I'm taking 18hrs worth of classes this semester, so to say that I may feel a little stressed at times would be an understatement. Whenever someone asks me a question that causes me to yield this information I get the "oh-my-gosh-how-are-you-still-alive?!" gasp, the "I'm-in-the-same-boat-hang-in-there" empathetic shoulder pat, and, my favorite, the "when-do-you-sleep?" glazed-over stare. These reactions sometimes give me comfort, but at the end of the day I still have the burden of this heavy workload. When people get stressed and need to release tension or vent frustration often they find a creative outlet. This is their way of escaping life's worries for a short time, their way of remaining sane. My claim to sanity has always been music, singing and listening, and luckily for me Vanderbilt is situated in the middle of Music City USA. Nashville.
In the last two years, I've gone to countless symphonies at the Schermerhorn Symphony Center, concerts at Exit In, Cannery Ballroom, and the Ryman Auditorium, but Nashville's music scene never ceases to amaze me. Many people come to Nashville with the preconception that the only music that exists here is honky-tonk, back-woods, country music and that simply is not the case. Every major touring artist, regardless of genre, makes a stop in Nashville because it possesses some of the best live music venues and recording studios in the United States.  Getting back to my point about music being my stress-outlet, my friend, Brian, sent me an email earlier this week with the subject line reading: Fwd: New Concerts for OneRepublic. Big deal, right? For me, really big deal. The backstory explaining my excitement is that OneRepublic is my long-time favorite band and they've been touring in Europe for the past year. Brian and I, share an equal obsession for OR–I converted him to the band during fall finals of freshman year–and have been waiting for a year to see when they would be performing in Nashville. The concert is the evening on the last Sunday of Spring Break and I will be tired from participating in Alternative Spring Break, but this concert will be worth it. With my course load, I can find pleasure in going to see my favorite band. Nashville's vibrant music scene also allows me to go and see lesser-known, indie bands such as the Villagers and RaRa Riot. The email titled Fwd: New Concerts for OneRepublic reminds me, even though a reminder is not needed, of why I love Nashville. I'm here to focus on academics, but when I get a break and can catch a concert, I realize, indeed, that, as Ryan Tedder would say (google him, if you don't know who that is), this has got to be the good life.