Emory Law Woodruff Scholars Finalist Weekend
This past weekend, I went to the Emory Law Woodruff Scholars Finalist Weekend.  Earlier this year, I had applied to Emory Law School and had applied to the Woodruff Fellows Scholarship:
"
In 1980, Emory University established the Robert W. Woodruff Scholars and Fellows Program to recruit and reward students with exceptional character, scholastic abilities and leadership qualities.
Each year, every college and division names incoming Woodruff Fellows. It is the highest accolade an incoming student can receive.
At Emory Law, Woodruff Fellows receive a scholarship covering all tuition and fees for their years of study toward a Juris Doctor. In addition, fellows receive a $3,000 stipend to assist in defraying the cost of books and living expenses. The approximate value of the fellowship is $144,000."  For more info:  http://www.law.emory.edu/admission/woodruff-scholarship-program.html
It was an honor to be a finalist.  They allowed us to stay in the Emory Conference Center Hotel and arranged meals for us in which we met the deans, staff, faculty, and student leaders of Emory law.
We even visited the Coke headquarters on a VIP tour!!! (My fav part!)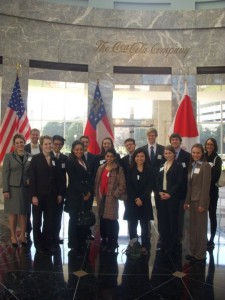 Overall, it was a wonderful experience.  I got to meet some great people from all over the U.S.  Although I did not end up receiving the scholarship, the dean called me to let me know I'd be getting a great merit scholarship package to Emory Law.
In many ways, I am very pleased with this result.  If chosen as a Woodruff, I would have had to make a decision to accept/reject in 24 hours, which would have been very difficult for me as I have not heard back from all of my economics graduate schools (admissions decisions go until mid-March).
Congrats to the four Woodruffs (with Sarah O'Donohue representing Vanderbilt!!).