A Downtown Excursion: Demos' and The Big Bang
One of the perks about Vanderbilt is that we live so close to downtown, where there are many music and food venues.  Yesterday, a group of my friends went out downtown to celebrate my friend Martha's 22nd birthday.
First, we took a walk downtown and went to get ice cream from Mike's Ice Cream Fountain downtown.  It was SUPER yummy (only my 3rd or 4th time there).  I got Birthday Cake ice cream, one of my favorite flavors.  Then we went to Demos',  It was a nice, mid-priced restaurant.  Many of us got flavorful pastas.  I, myself, got fettucini with the seafood sauce, which was delectable!  Martha got a free slice of cake for her birthday :-) (you never know how much free stuff you get for your birthday).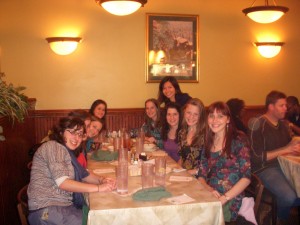 Next, we went to The Big Bang, which is a 21-and-up piano dueling bar.  The musicians were incredibly talented.  They all (since they rotated instruments on the different songs) could sing, play piano, play bass, and play the drums.  It was an amazing experience; they played some familiar songs and then some classics.  We had a great time singing along, dancing to the beat, and admiring the talent of the musicians.  This is a must-see for Vanderbilt students.